According to a study by the Alzheimer's Association, nearly 90% of older and aging adults want to age at home; however, if a person has a progressive dementia or Alzheimer's, there are some realities for them and their family members to grapple with.
If you or a family member has been recently diagnosed with early-onset Alzheimer's and want to remain at-home, there are financial considerations for everyone from home modifications, monitoring systems, insurance costs, skilled aid support, respite and safety features are part of the equation.
General U.S. statistics
More than 11 million Americans provide care for a loved one with Alzheimer's Disease or another dementia type – and that number will grow as our population ages.
Long-term care services include home and community-based services, assisted living facilities, or full-time care at a nursing home. The costs below are rough planning estimates.
Median cost comparisons - 2022
Source: Genworth. Cost of Care Survey: Median Cost Data Tables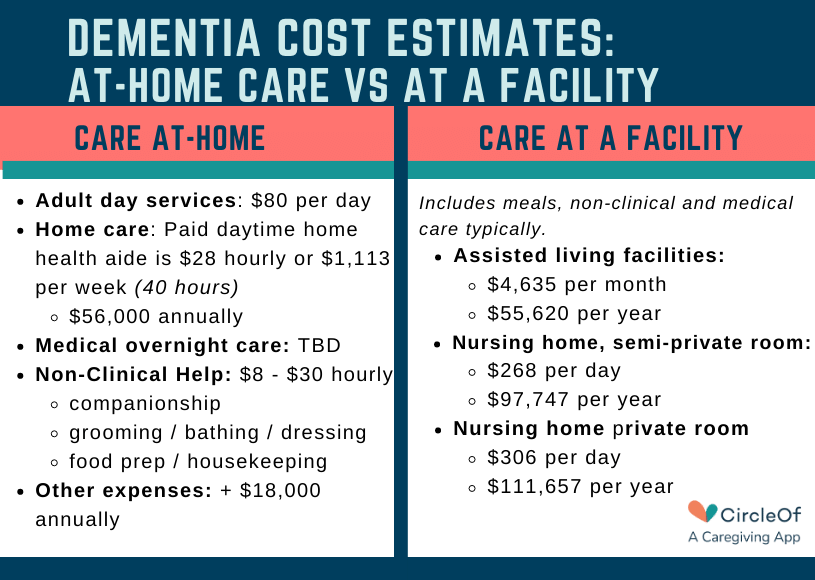 Costs for a dementia-specific in-house health aide with training and certifications is on the higher end of home health support. These professionals have prior experience with dementia patient care.
Four planning cost categories
The Alzheimer's Association breaks down the average costs for at-home dementia care into four categories to help us work out a financial plan to help understand cost implications.
Health-related expenses

Informal caregiving expenses

Lost income costs

Miscellaneous expenses
Health-related expenses
This category includes out-of-pocket healthcare expenses for your loved one with dementia, including insurance deductibles, prescription medication costs, Medicare premiums, and non-covered services like long-term care.
These expenses can be as little as $3,000 annually or as much as $12,000, depending on how advanced the dementia is and how much ongoing healthcare they need. The Alzheimer's Association also lists adult day services and full-time adult care at a residential facility among these health-related costs.
Informal caregiving expenses
Informal care costs add up quickly when factoring in transportation, meal preparation, and companion and respite care.
The Alzheimer's Association estimates $18,000 annually on these expenses for a person with dementia. These costs include light duties like meal preparation, assistance getting dressed, or 24 /7 personal care to avoid accidents.
If you need help trying to understand how to finance caregiving or if you can get paid to take care of a loved one we recommend our partners at Eldercare Solutions. They have a first time planning meeting for $50 that will help you learn how you can pull together all the assets that will help you get help caregiving.
Lost personal income
As part of cost planning, caregivers need to factor in wages, savings, and personal social security financial losses as part of paying for dementia care. Reducing hours at work is difficult and costly, but many spousal and family caregivers feel they have no choice.
If you take a leave of absence from work to give round-the-clock care to your loved one with dementia, you're losing the money you would have earned, saved, and invested.
Total wage, Social Security, and private pension losses due to caregiving could range from $283,716 for men to $324,044 for women, or $303,880 on average for a typical caregiver. Source: Met Life 2011 study
The financial impacts on caregivers add up quickly – according to a 2011 MetLife survey. This data is pre-COVID, and it is still valid here.
Miscellaneous at-home costs
The cost of dementia care varies widely based on location, capabilities, activities, and type of care as the disease progresses. But, of course, these variables are influenced by you as well. For example, if your loved one is in the later stages of dementia, they might require incontinence support, a monitor or location GPS tracking device, and advanced medications.
Miscellaneous expenses can add another $3,000 to $4,000 annually. This includes costs for personal care items, medical supplies, safety-related fees, and adult day care services.
Organize support
CircleOf, Inc. understands the complexity of managing at-home dementia care and offers an innovative approach to care management support. We help family caregivers manage quality care for their loved ones while maintaining independence and safety in their community. CircleOf app's popular features include:
Organize care and manage volunteers and tasks for you AND your loved one.

Communicate and manage caregiving tasks.

Privately stay on top of doctor's appointments, keep the family up-to-date, and find help with the daily to-dos.

Save time in group messaging, no more separate groups.
Care starts with you, here. Download the app and make a support circle for on-demand care. Then, download the app and care together.
Summary
The cost of at-home dementia care for your family member will vary depending on several factors, such as where you live, the level of care needed, and the type of provider you choose.
On average, at-home care for dementia patients ranges from $15 to $30 per hour. However, it can be higher or lower depending on the location and the patient's specific needs. The additional costs of transportation, medication, food, and additional support care can also be considered.
It is best to consult with a local professional, such as an eldercare agency or a geriatric care manager, to get a more accurate estimate of the costs for your loved one's specific needs.
Sources
2022 Alzheimer's Disease Facts and Figures Special Report More Than Normal Aging: Understanding Mild Cognitive Impairment