Looking for a nurse to help take care of a loved one at home? It can be tough to know where to start.
There are both professional and personal considerations when hiring a nurse for in-home care.
Finding and hiring the right person can be an enriching experience for you and your family. With the proper nurse, you are assured that your loved one gets the best care.
How to start?
From our friends at Soaring Families:
Dealing with serious health problems or a lifelong disability can be all-consuming.
1. Decide what type of nurse or help you need
The first step is to decide what type of nurse you need. There are many different types of caregiving professionals, each with their specialties.
You want to choose a nurse with the experience and skills to care for your loved one. For example, if your loved one has dementia, you will want to hire a nurse with expertise in dementia care.
2. Check references and credentials
Checking references and credentials is essential. Ask the nurse for a list of references. Call the references to ask about their experience with the nurse.
You should also check the nurse's credentials to ensure they are qualified to do the job they say they can do. If you are not comfortable checking the nurse's references or certifications, there are professional service that can manage this too.
One of the reasons we recommend Care.com to caregivers is that they display caregiver credentials in their listings. That has helped us tremendously.
add_merchants
3. Interview the nurse
If this is your first time doing this, we recommend that caregivers join up with Mike from Soaring Families. He has built a community of caregivers at home and has nearly 20 years of experience with this and can help you understand the fundamental questions. After all, you don't know what you don't know.
After you have checked the references and credentials of the nurse, it is time to interview them. This is your chance to get to know the nurse and ask any questions you may have. Some things you may want to ask about include the following:
Their experience in caring for patients with your loved one's condition

Their availability to work - think weekends or overnight

Are there additional fees?
You may also ask the nurse how they would care for your loved one. This will give you a good idea if they can follow a care plan and whether or not it is a good fit for them.
After the interview, take some time to think about whether or not you want to hire the nurse. If you decide not to proceed, let the nurse know and thank them for their time.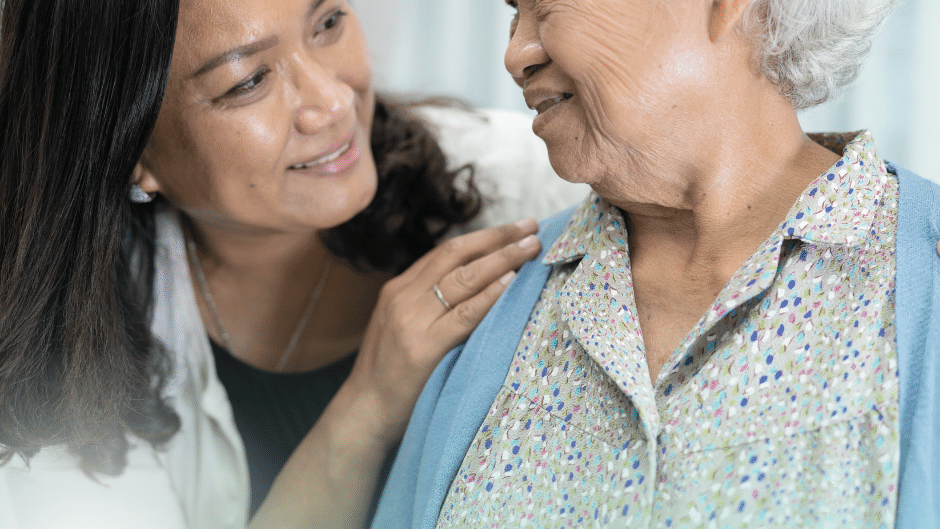 Benefits of hiring a nurse for home care
Nurses are highly trained professionals who can provide quality care for your loved ones. Here are some top benefits of hiring private nursing care at home.
Nurses have training and experience
If you need help in providing expert care, you need someone with the proper training and experience. For example, nurses at home help people recover from an illness or injury and manage chronic health conditions.
Also, a nurse has seen a lot - that experience and the intuition that comes with it come in handy in ways you can least expect. They typically have a solid local network and will "know someone" who can help with all kinds of things.
Companionship
Nurses are companionship and support for your loved one. If you hire someone with the qualifications, they help in various ways. For example, if this is in your agreement, they can help with activities of daily living, such as bathing, eating, dressing, and grooming.
Respite care
Nurses can be scheduled to provide you with respite care. This gives you a break from caregiving duties. This is a release valve if you are feeling overwhelmed or burned out.
We recommend checking out the professionals available at Care.com. They connect you to vetted professionals that help manage the daily demands of child care, senior care, pet care, and housekeeping.
Organize caregiving support
Caregiving support is critical for families caring for loved ones with chronic illnesses. Unfortunately, not everyone can find a qualified caregiver to do the job. As a result, many caregivers give up their personal lives and become full-time, unpaid caregivers.
Family and friends who take this role often feel isolated and alone in their journey, but resources are available to help you.
Find support in communities and care groups either in-person or online. These groups give caregivers information, advice, and support.
Another excellent resource for caregivers who are helping a relative with dementia is the Alzheimer's Association. The Association provides education, resources, and support to families affected by dementia. They also have a national helpline that caregivers can call for help.
Finally, it is essential to take care of yourself as a caregiver. Get enough rest, exercise, and socialization. Taking time for yourself will help you stay strong and healthy while caring for a loved one with dementia.
Fortunately, our CircleOf app allows you to do just that. We aim to facilitate unpaid care through features that promote care support and socialization.
CircleOf is available free of charge on both iOS and Android devices.