Helpful tips on home safety for the elderly
Home safety is a top priority when it comes to keeping elderly loved ones hale and hearty as they age. How can we age at home or make our homes safe for our aging relatives?
Caring for our homes inside and out means ensuring the place where we live, eat, bathe and sleep is safe. Though we cannot guarantee that emergencies won't happen, we can certainly prepare for them and do our best to help avoid certain scenarios.
If you're looking for simple ways to make safety upgrades, check out these tips for home safety for elderly adults.
Our guide has important modifications, safety features, and tips you can implement to prevent accidents and promote independence for older adults who will either age in their place or move in with you. 
Is your home safe for elderly people?
The concept of "aging in place" is popular for those of us who want to maintain independence and autonomy, not to mention have our stuff where we want it. Here is our mindset as we approach space planning.
Decreased mobility, coordination, and cognitive abilities can impact the safety of your loved ones over time. To prevent accidents, there are some fundamental steps you can take to prioritize safety, and keep it classy.
Take a fresh look around the space and envision it free of tripping hazards, install safety features, and review what to do in the case of an emergency. (For more detailed tips and step-by-step instructions on how to make your home safe for elderly, skip to our guide below.) 
What are safety measures designed for the elderly?
The first thing you can do to make sure your home is safe for elderly people is to conduct a home safety assessment.
While you may think you space is easy to navigate, here are some tips for those in your life who may have mobility, strength or vision conditions. Elderly people feel most at home (and safe!) in a space that is well-lit, functional, clutter-free.
Ask yourself the following questions to gauge if your home is safe for the elderly person you're caring for:
Do any rooms contain hazards like loose rugs, poor lighting, or clutter that obstructs common walking paths?

Do all stairways have sturdy, secure handrails?

Are there grab bars and safety measures in the bathrooms?

Do you have non-slip flooring?
Even the most active and mobile elderly people need to exercise caution around the house. A simple trip in the kitchen can be dangerous for an elderly person with osteoporosis, thin skin, or balance issues.
Implementing safety measures similar to those you would find in a nursing home or assisted living facility is great inspiration to start creating a safer space! 
Tips for preventing falls
According to the Centers for Disease Control and Prevention (CDC), falls are the most common cause of fatal and nonfatal injuries for people 65 and older. Falls can also result in a loss of confidence and independence.
Prevent falls and minimize the risk of injury by making the following changes:
Remove all trip hazards
We all get distracted, some of us shuffle our feet and others are vulnerable due to balance or stability issues.
Trip hazards include area rugs, cords, low tables, footstools, decorative items, and beloved family members like pets. If you have small children or pets in your home, keep toys organized and stored away when not in use. If you have exposed electrical cords, cover them with cord protectors.
NOTE: If you need to rewire anything, we recommend hiring a professional to reroute the power safely. You can get help contractor help in your area with Thumbtack.
Install safety bars
The bathroom is one of the most common places where falls occur, so installing a grab bar in the bathroom tub or shower can drastically reduce the risk of falling. A safety bar next to the toilet also is extra assistance in navigating the toilet.
Make seating accessible
Accessible seating is key to ensuring your senior is comfortable. Add a bench near the front door so they can sit while putting on or removing coats and shoes when they enter or leave the house.
Comfortable seating in the kitchen area can promote social interaction and encourage your loved one to engage in daily living activities independently.
Create clear paths outdoors
Encouraging elderly people to spend time outdoors is another way to boost independence and health.
Whether they enjoy visiting with neighbors on the porch, checking the mailbox, or doing light yard work, it's important that hazards like lawn equipment, cracks in the sidewalk, or other tripping hazards are removed or remedied.
You may also want to double-check your doorway thresholds to make sure people can safely enter and exit the home without concern. 

Your home-safe checklist for seniors
While home safety for your elderly family members can feel like a big task, it is manageable one step at a time. This checklist to will help you tackle specific areas of your home so you can feel confident that everyone's safe.
For some of these tips, proper and secure installation may be a job for a contractor, especially if there is wiring, electrical or plumbing involved.
Get help with your to-do list
You can get help contractor help in your area with Thumbtack.
They have lots of listings for home improvement contractors, and have a unique model. Thumbtack is different than other sites because it works well both for people seeking a contractor, and for contractors.
Bathroom shower tips
Showers can become physically difficult as you age, recover from surgery or manage a chronic illness. Also, not everyone can stand up in a shower for a period of time and get clean due to strength or balance issues.
Add non-slip flooring inside and outside of the tub or shower

Install grab bars on the wall inside the tub or shower

Get a stable, sturdy shower chair like these from Carex
Offer Alert: Right now they are giving you a Free grab bar and 20% off if you take a shower seat quiz
Bathroom toilet safety tips
Medication safety tips
Look around your house. Medicines are kept in a variety of public spaces like the bathroom, the kitchen, or at a bedside. Medication safety is critical, especially when caring for confused adults or young children in the same house.
Keep medications stored in a safe place; like a locked cabinet or a safe

Track, monitor, and dispense medication according to prescription

Get a medicine organizer

Have an arthritis-friendly method of grinding pills for tough-to-swallow medicines (we found this Apex pill pulverizer at Carex)

Dispose of expired or unnecessary medicines in the right place
Kitchen DIY tips
Kitchens are where all the action is at home.
Keep countertops clear of clutter

Always close cupboards and drawers

Keep a working fire extinguisher close, safely stored, and visible

Remove all throw rugs that may be a tripping hazard

Install nonslip flooring

Clearly label appliances, noting the "off" position for those with poor eyesight

Make sure there is a working smoke detector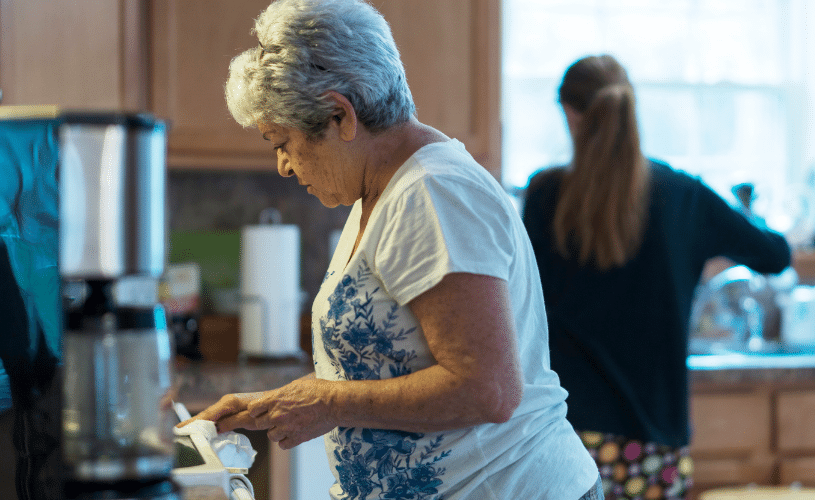 High-traffic living areas
Bedrooms, living rooms, the den, and hallways are destinations for everyone in the family at some point. Keep em clear, well lit and easy to cruise around in.
Keep pathways clear for easy walking

Move furniture obstructions like a bed, chair, and sofas for easy navigation 

Make sure all furniture is at an appropriate height for easy maneuvering

Ensure adequate lighting so people can see where they're going
Emergency contacts at the ready
Keep emergency phone numbers such as 911, Poison Control, and close friends and relatives in a visible, easily accessible location

Make sure there's easy access to a phone in case of an emergency

Get an emergency response system. Lively has excellent products to help you and your loved ones stay safe, connected, and healthy. 
Get financial assistance
We know that making home modifications to ensure the safety of your elderly family members can add up costs quickly. While traditional Medicare doesn't cover most home retrofit projects, other financial assistance options are available. 
Get a Medicare Advantage Plan that may pay for safety devices that prevent falls.

Research low-interest loans for home improvement and accessibility 

Pro tip: If you live in a rural area and are making home improvements to a home owned by someone 62 or older you might qualify for the federal Rural Housing Repair Loans and Grants program.  
Get professional advice
Caregiving information is plentiful online, but to get started, caregivers — or their parents, if they are able — should seek out some professional advice, experts say.
For further assistance on prioritizing, planning, and even paying for home safety for elderly relatives or friends, schedule a family planning session with Roz Jones Enterprises. With over 15 years of experience, Roz can share her expertise, reduce decision-making confusion, and help you feel confident in your care plan.