In the role of caregiver, there is a LOT to learn. For this book bag, we have selected books written by people who have 'been there and done that'.
We research books to educate us as caregivers, console us when we feel overwhelmed or lost, help breakdown barriers and remind us that we're not on this journey alone.
In no particular order, here are some staff picks from our bookshelves.
by Linda Abbit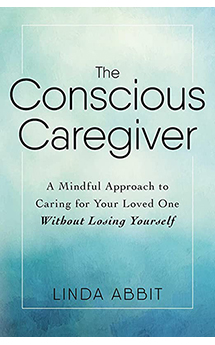 Linda Abbit, founder of Tender Loving Eldercare and a veteran of the caregiving industry, shares her advice in her book, The Conscious Caregiver, on caring for an older parent or loved one and how to handle everything that goes along with this dramatic life change. She teaches us that a healthy caregiver is a more effective caregiver and how to understand what health means - mental, emotional, spiritual, and physical.
The Moral Education of a Husband and a Doctor, by Dr. Arthur Kleinman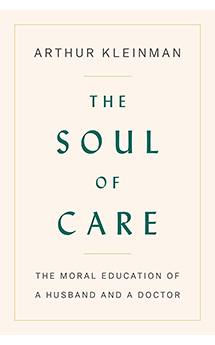 When Dr. Arthur Kleinman was his wife Joan's caregiver after she was diagnosed with early-onset Alzheimer's disease, he is a husband, a caregiver, and an eminent Harvard psychiatrist and social anthropologist. Yet, in his caregiving role, he discovered how far caregiving extends beyond the boundaries of medicine.
His book, The Soul of Care: The Moral Education of a Doctor, also focuses on societal issues as medical technology makes incredible advances coupled with higher healthcare costs. In addition, he addresses care advocacy challenges for patients, caregivers, and just humans.
Arthur Kleinman is a member of the National Academy of Medicine and the American Academy of Arts and Sciences.
by Atul Gawande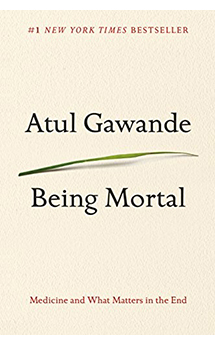 The book, Being Mortal: Medicine and What Matters in the End poses several questions that our society is currently grappling with. How do we age, consider aging and deal with the consequences of aging?
How can people live with age-related frailty, serious illness, and approaching death? Gawande makes a compelling call for functional changes in how medical professionals treat patients approaching their end of life. He recommends that we collectively prioritize well-being and ways to improve quality of life vs. more time just surviving.
The author shares the personal experiences of his patients and relatives, which are stories about aging realities like dementia, broken bones, loss of independence, loneliness, overwhelmed families, and expensive geriatric care.
"It is not death that the very old tell me they fear. It is what happens short of death—losing their hearing, memory, best friends, and way of life." ― Atul Gawande
In the post-pandemic world, there is a lot of energy around trying to better understand and grapple with supporting family caregiving roles. If you become a caregiver for a spouse at a young age, it can be devastating, confusing, and surprising.
Already Toast is a firsthand account of how all-life consuming the unpaid caregiving role for a spouse can be a wife and a mother of young children. It is a first-hand account of caregivers that are called the sandwich generation.
When Kate Washington's husband, Brad, learned he had cancer, they were a young couple: professionals with ascending careers and parents to two small children. Brad's diagnosis changed and altered their identities: he is not just her husband, but they transform immediately into a patient and caregiver dynamic.
"Finding a Better Path to the End of Life." When medical professionals question how we consider health, living, and dying, they approach it from a unique lens. When Dr. Zitter went into healthcare, she wanted to save lives, lessons she's learned make this narrative so rich.
In Extreme Measures: Finding a Better Path to the End of Life, Dr. Zitter surfaces what patients fear more than death itself: dying badly or horribly with the excessive use of technology.
by BJ Miller, MD, and Shoshana Berger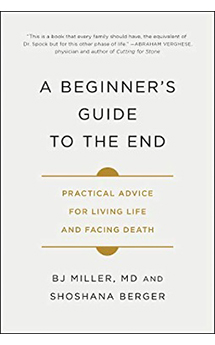 This is a pragmatic and realistic conversation on living and dying with some actual 'how-to' reframing on how we individually and culturally think about these topics.
The book, A Beginner's Guide to the End, is a clear-eyed conversation on social issues we are either nervous about discussing or don't even consider talking about; that is, until we are forced to.
Toolkit for Caregivers: Tips, Skills, and Wisdom to Maximize Your Time Together is a 'how-to' book we love. Most of us will become caregivers at some point, and it is a challenging role to approach proactively. This toolkit is a reliable go-to resource when you need to know how to prepare yourself and your family best.
Deidre Edwards, RN, is the author and a speaker who focuses on personal development in total body wellness, caregiving skills, and surviving life transitions.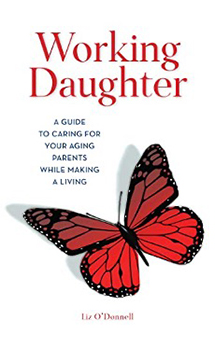 Working Daughter: A Guide to Caring for Your Aging Parents While Making a Living
This book is about managing careers, children, and balancing caregiving for parents – along with marriages and friendships.
An estimated 10,000 people reach age 65 every day, and a shortage of caregivers is predicted in the next few years. This book discusses how family caregivers and their employers face the ripple effects of a rapidly aging society.
by Donna Thomson and Zachary White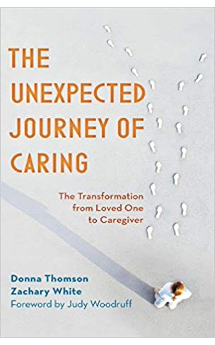 This book speaks to caregiving as it unfolds, in all emotional confusion, chaos, adjustments, and messiness. It is informed by original caregiver research and proven advocacy strategies.
You won't find overused clichés or care stereotypes in this book. Also, there are no promises to help caregivers return to a life they knew before caregiving. The Unexpected Journey of Caring is a practical guide to finding personal meaning in the 21st-century care experience.
Becoming a caregiver puts us where we rethink everything we once knew. We redefine core life-stabilizing concepts like responsibilities, roles, beliefs, expectations, and relationships.
by Sheryl Sandberg and Adam Grant
Part memoir and part foundation, this book is a memoir, self-help, and motivational guide to dealing with adversity and building resilience in the face of hardship. The book is written by Sandberg, the COO of Facebook and the founder of Leanin.org, and Adam Grant, a renowned organizational psychologist and author.
This book is based on Sandberg's personal experience of coping with the loss of her husband, and how she and her family found a way to move forward. The first part is the story of loss and grief. The second part of the book is about resilience and how to build it. The ending is about joy and how to find it even in the darkest of times.
Caring for Our Aging Parent and Ourselves, by Jane Gross
A Bittersweet Season is a memoir about caring for an aging parent, written by New York Times journalist Jane Gross. When Gross's mother is diagnosed with Alzheimer's disease, she becomes her primary caregiver, navigating the challenges of finding quality care and balancing the demands of her own life.
Through her personal story, Gross explores the bittersweet experience of caring for an aging parent and the difficulties of letting go. The book is a touching and honest portrayal of the joys and heartaches of caregiving. Experiencing something similar?
 by Martha Davis, Ph.D, Elizabeth Robbins Eshelman, MSW, and Matthew McKay, Ph.D
The Relaxation and Stress Reduction Workbook is a comprehensive guide to managing stress and finding relaxation. Whether you're looking to reduce stress, improve your relationships, or simply find more peace and happiness, this book is a valuable resource.
by Jahnna Beecham and Katie Ortlip
Living with Dying is a practical guide to caring for someone with a terminal illness. Written by hospice caregivers Jahnna Beecham and Katie Ortlip. The book provides a compassionate and holistic approach to caring for someone who is dying.
by Amy Goyer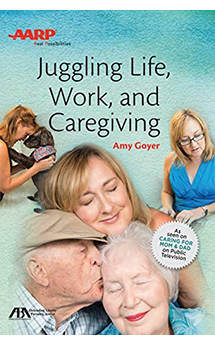 Amy Goyer, is an expert on caregiving and aging. She draws on her personal caregiver experience and research to provide a wide range of practical tips and strategies for managing caregiving responsibilities. The book has four resource packed sections: 
Understanding the caregiving challenges

Time management and organizational strategies

How to access caregiver resources and support systems

How to maintain relationships with friends/family while caregiving.
The book, Juggling Life, Work, and Caregiving is easy to read, and the tips and strategies are practical and actionable.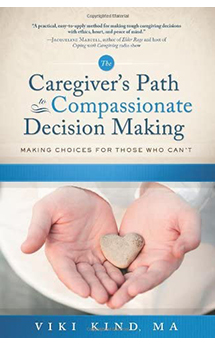 This book is a guide for family caregivers to navigate through the difficult decision-making process that comes with caregiving.
It focuses on end-of-life planning topics such as aging and ailing care, legal and financial issues, and self-care for caregivers.
Looking After Yourself and Your Family While Helping an Aging Parent by Barry J. Jacobs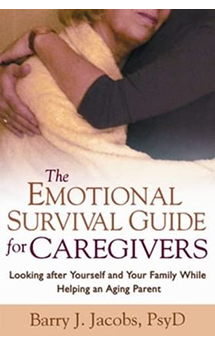 This book has practical strategies and tools to help caregivers navigate the emotional challenges of caring for an aging parent. 
The author is a clinical psychologist, who addresses a compassionate and understanding approach to the difficulties that caregivers face, such as guilt, fear, stress, and burnout. Importantly, he provides guidance on how to maintain healthy relationships with other family members
Keep on caring and advocating. If you read these books too, let us know what you think of them.