Where do you want to live when you grow up? As we age, that question takes on a whole new meaning. Exploring the assisted-living landscape can be a potentially stressful — albeit necessary — process, simply because you want to make the right choice at a price you can afford for the foreseeable future. 
In addition to the support of family, friends, advisors, and other professionals, we made a simple guide to help you to make an informed decision with confidence.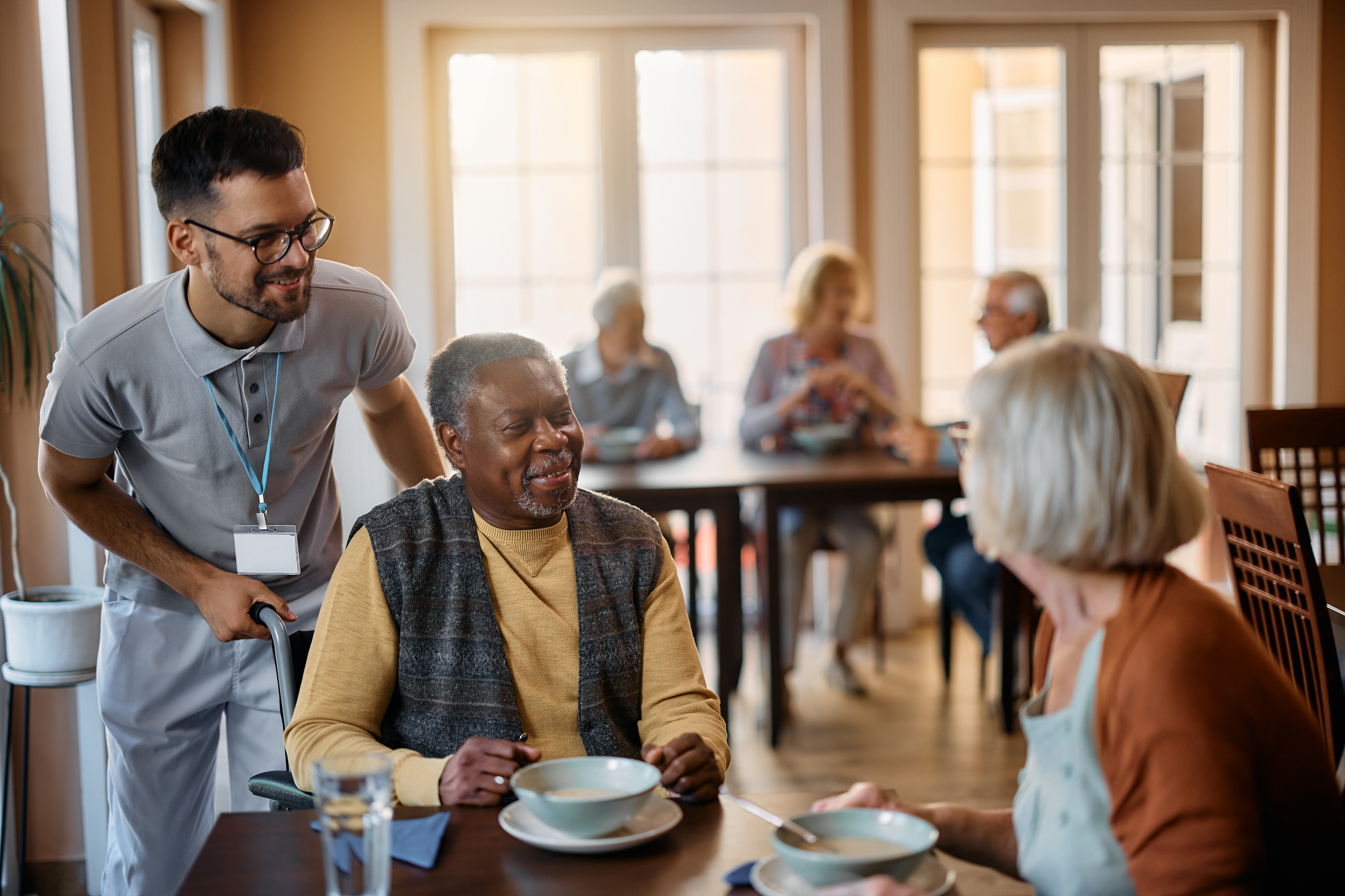 Why Talk About Assisted Living Now?
Planning is a smart idea once you reach your 50s and 60s because assisted living and long-term care is expensive.  Also, there are a lot of changes happening with assisted living.
Among 65-year-olds, nearly 70% will require long-term care services, according to 2020 data from the Administration for Community Living, part of the U.S. Depart of Health and Human Services. Of those who require long-term care, men will need services for an average of 2.2 years, and women will need care for an average of nearly 4 years. College dorm living again? Not exactly.
What is Assisted Living?
Assisted living is residential care for adults and aging people who benefit from a certain level of personal care but still want to maintain their independence.
We have asked our partners their thoughts on how to select best care facility, Elder Care Solutions and our partners at LegalZoom both have guidance on how to approach these big questions. These trusted experts have practical solutions on ways to finance long-term care. If you need an extra pair of hands right now, we trust Care.com to get the right people where and when you need them.
Assisted living is residential-style living for people needing personal assistance during the day. For example, showering, personal hygiene, toileting, dressing, cooking, eating, and functional mobility are everyday daily activities that may become more challenging as you age. Assisted living facilities have the appropriate level of care needed for each resident so they can go about their day as independently as possible.  
There are also instrumental activities of daily living or IADLs. For example, these facilities also support with tasks like household chores, money management, shopping, meal prep, managing medications, and scheduling doctor appointments. 
Understanding the difference between assisted living and other long-term care options simplifies decision-making when deciding your next move.
Assisted Living Costs: What To Expect
The care and support at an assisted living facility come at an associated cost.
According to the 2021 Genworth Cost of Care Survey, the median cost of an assisted living facility in the United States is approximately $4,500; however, the financial costs for assisted living differs according to your needs and the state you live in. For example, the average monthly cost in Los Angeles in 2021 was $5,250, while people in Pittsburgh have a median monthly price of $3,250. That is a $ 24,000-a-year difference.
To make the decision more complicated, no two facilities charge the same way, and the actual financial story is in the details. Look out for itemized services and ask specific questions to understand better what you can expect and need to budget for. Get a complete cost itemization to avoid costly surprises. Some key questions are:
Is there a move-in fee? How much?

What specific services and amenities are included in the monthly rent?

Do you charge an hourly care rate?

Does the size of the apartment factor into the overall cost?

Do you accept couples? Pets? Visitors? Packages?
Average Assisted Living Costs by State Chart
How to Pay for Assisted Living
Everyone's financial situation is different, and many are surprised to learn that Medicare does not cover most assisted living costs. Luckily, there are other financial options available to you. Affording the type of care you need is something you can better understand with the help of an informational session with experts like Eldercare Solutions. They know the stones to turn over to see your full picture.
Life Insurance
Most life insurance policies offer the option to cash out the policy when using the funds for long-term health care needs. However, this will impact any beneficiary's or heir's ability to receive the funds after the policyholder passes away. Check out your existing insurance policies and get coverage. We recommend Bestow life insurance because they specialize in instant term life insurance, which means eligible applicants get covered immediately without having to take a medical exam. You need to answer some questions, but check out their online service.
Long-Term Care Insurance
While your regular health insurance plan may not cover assisted living expenses, you can look into long-term care insurance designed to meet your financial obligations when the time comes. This is a solid option if you have a pre-existing long-term care insurance policy.
Medicaid
Medicaid is a joint federal and state program that provides healthcare coverage to individuals who live on a lower income. It is a safety net to ensure that vulnerable populations get vital health services, like primary and preventative care, hospital visits, treatments for chronic illnesses, and mental health services.
Medicaid was not designed to cover the total cost of assisted living, but depending on your state, it can cover a portion of the expenses. 
Reverse Mortgages
If you own a home and decide it's time to move into an assisted living facility, you may want to consider taking out a reverse mortgage. This option allows you to access your home's equity and liquidate the funds to pay for assisted living expenses. However, this loan requires repayment with interest.
Veterans Benefits
Are you a veteran?
According to the US Department of Veterans Affairs, assisted living falls under one of the care settings that may receive financial assistance. Based on your service-related disability status, your enrollment in VA health care can aid in paying for some portion of assisted living expenses. Also, the VA will determine the validity of your care needs and confirm available space in an approved facility near you.
Out of Pocket
This is an option if you have significant retirement savings, investments, or additional savings accounts. You can also ask for financial assistance from other family members and pool resources.
Saving are something we are not all great at. It's ok. There is one thing that taking care of another person does for you is drive home the idea that we need to save.
Providing care for a family member can put a dent in savings, but there are ways to get finances on track. If you want a little extra help, find help to get on track. We highly recommend our friends at Eldercare Solutions. They have smart solutions, understand caregiving and what it takes.
Assisted Living Value
Assisted living is a good option for older adults who need hands-on care or help staying safe and healthy. Of course, "value" is in the eye of the beholder, but we are generally speaking about costs at home compared with prices in assisted living.
When you live on your own, there are home or rent fees, add-in groceries, transportation costs, home maintenance fees (like lawn care services), and activity fees at the local senior center. In many cases, based on prices, older adults living at home are paying just as much as, if not more than, a senior in assisted living.
According to Consumer Affairs, approximately 810,000 people lived in assisted living facilities as of February 2022, and 7 out of 10 people are expected to require assisted living services in their lifetime. In addition, the US anticipates needing another 1 million living units for elderly adults by 2040.
Here are a few of the common ways you can benefit from assisted living:
A sense of independence. A top priority in assisted living is to provide residents with enough freedom and flexibility to thrive.
24/7 caregiver support. Caregivers are available 24 hours a day to assist residents' needs. This can include helping with meals, dressing, bathing, grocery shopping, cooking, household chores, transportation, and medication management. Emergency support is also available on-site or at a nearby medical facility. 
Transportation. Most assisted living facilities offer transportation services such as a community shuttle to take residents to doctor appointments, run errands to local shops or community-organized social events. 
Socialization. Assisted living facilities are widely known for offering programs and events that encourage socialization and connection between residents.
Safety and security. Most facilities have controlled access, such as security systems, front desk clerks, and visitation protocols, residents (and their loved ones) can rest assured they are in good hands.
While these topics will likely be covered on the residence's website, note which issues are most important to you and prepare a list of questions for facility staff.
For additional resources on how to better prepare for emergencies, end-of-life planning, or selecting the best care facility, Elder Care Solutions and LegalZoom tools to help you narrow in on what is important and affordable.