Clothes are part of care and fall prevention
What we wear shows the world who we are, and this is as true for older adults as it is for younger folks.
But, chic-yet-functional clothing is important for older adults to maintain their sense of identity, independence and mobility. Clothing should be practical, flattering and comfortable. That's why the adaptive-clothing brand, Joe&Bella's is so helpful.
Adaptive apparel makes a difference
When dressing becomes difficult for older adults, they are often forced to choose from a limited range of clothing options that are often not that comfortable or don't match the type of clothes that they have been used to wearing. 
For many, they have to choose between wearing their own clothes, or finding adaptive apparel options that are easier to put on, but make it a bit harder to look in the mirror.
Living with age-related changes does not mean wearing clothes that don't look or feel like you. - Joe&Bella
Clothes help caregivers, too
Clothes that are comfortable and make dressing easier not only improve the dressing experience for the older adult, but will help their family and professional caregivers as well.
Gone are the days of arguing with your loved one over what clothes to wear.
Gone are the days of risking your lower back or knees as you spend too much time in awkward or dangerous positions helping them dress.
How can adaptive clothing help reduce the risk of a fall?
Adaptive clothing plays a crucial (and cost-effective) role in reducing the risk of falls among older adults.
Think about it; clothing that fits poorly or is difficult to get on and off can lead to dressing frustration, impatience or decreased mobility, which in turn can increase the risk of falls.
Tip!
Get dressed sitting down.
Adaptive pants should also be included for anyone at risk of falling. Why?
Pants with side zippers make it easier to get dressed in a seated position, which is much safer than when standing. This dressing tip alone can save many from a fall caused by imbalance.
Get the pants or shorts you want to wear

Sit down in a chair

Put one leg into your pants, and then place your other leg into your pants

Unzip the side zippers so you can easily pull them up around your waist 

Make sure the pant cuffs clear above your ankle so that you are freely able to stand up

Grab the waist portion of the pants, hike them up to your thighs. If available, use the pants' pull-up loops for an easy-to-grab handle 

Zip the pants at your waist and secure the snaps

Standup and you're good to go!
What about braces or orthotics?
Specially designed clothes with wider leg openings accommodate braces or orthotics.
Also, magnetic, snap, and zipper closures in place of buttons make it easier for people to dress safely and comfortably. These adaptations can drastically improve the dressing experience for people experiencing a range of conditions, from arthritis and tremors, to reduced vision or limited mobility.
Feet first for stability
A foot-first stability solution is either non-slip socks or slippers. Socks with a rubber tread are helpful, but treaded slippers are sturdier.
Look for slippers with an adjustable width to accommodate the swelling of feet and ankles, a common condition among older adults.
Shoes with adjustable width are a smart solution for those wearing orthotics or braces. The key is to find a pair that is easy to put on and off; otherwise, they won't be used often.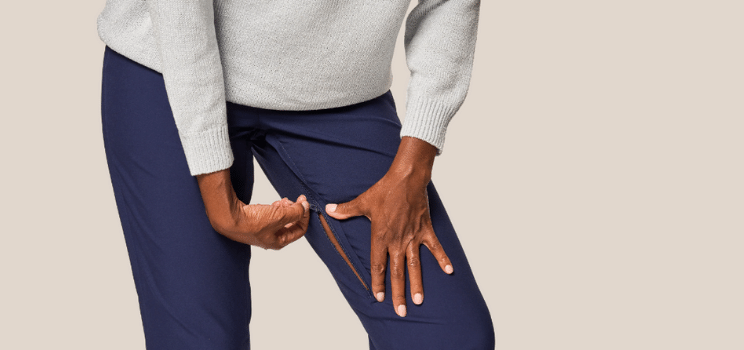 Can adaptive clothing help with recovery?
Adaptive clothing can significantly benefit older adults recovering from an injury or medical procedure. If you are caring for someone recovering from an injury or medical procedure, what they wear matters for both of you.
Dressing can be difficult and frustrating when someone has limited mobility or is experiencing pain. Clothes designed with ease of dressing can help alleviate much of this frustration and make the recovery process more comfortable. 
Shirts for shoulder stiffness, slings, or surgery
Shirts that open in the back like a hospital gown (but look like regular shirts) are an excellent solution for those recovering from shoulder surgery.
These shirts eliminate the need to raise arms over the head to get dressed. In addition, shirts that use magnets instead of buttons allow the wearer to get dressed using just one hand, which will be an excellent solution for those with frozen shoulders, arthritis, casts, or slings.
Even tops provide openings for IVs or a removable sleeve for a doctor's visit. 
What about clothes and incontinence?
This is where dignity matters and we have an award winning fashionable solution for that.
Joe&Bella's award-winning CareZips® has three zippers. Why? So, taking them off when using the bathroom or changing briefs is unnecessary—just zip, zip, and zip.
And for those using a catheter, incontinence products, or other medical equipment, pants with an inseam zipper provide ease and safe access. These are also helpful when helping a person who is in a wheelchair.
CareZips are the only pant on the market with a third zipper and was named Best Product of the Year from Caregiver.com and Today's Caregiver Magazine. So if you are searching for the perfect balance between feel-good practicality and timeless style, you're in good company because thousands of other shoppers love these cute pants too!
Get 20% off your first order and exclusive deals, and access to pre-sales when you signup for Joe&Bella's newsletter too!
Clothing that feels luxe while being functional, comfortable, and easy to put on and take off can help older adults focus on their recovery and regain their independence. And now, for the first time, brands are creating adaptive apparel that is functional and fashionable. `
We at CircleOf can not say this any better than Ben from Joe&Bella: "Living with age-related changes does not mean wearing clothes that don't look or feel like you. What we wear is a part of our identity."